Patrick Nicholas operates master classes once or twice a year along the lines of some of his images in the Belle series, some of which are shown here. You can see them all on his site photonicholas.com
If you are interested in pursuing a master class in the photo school involving the landscape with nude models please contact Patrick Nicholas specifying 'Master Class'.
Next masterclasses begin 25 August 2023, and 29 September 2023

Topics covered in this  photography master class:
photography techniques, lighting, both natural and artificial, on location using flash, reflectors, diffusers and simple means such as a hand held torch or flashlight; creating atmosphere using smoke; props and drapery; post production in Photoshop and fine-art printing. Here you will see the wide variety of locations found within one and a half hours by car from Orvieto. We are in Umbria, but our locations stretch across to the Tyrrhenian Sea of Tuscany and Latium (or Lazio, the region of Rome).
Although this is a predominantly digital photography course,  if you have a medium format film camera this is the time to use it.
This workshop is really designed for photographers with some experience and who have the right equipment – that said we can lend a tripod if you want to save weight. we also can lend Canon lenses.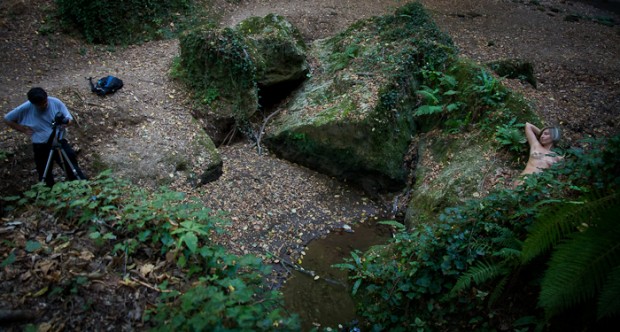 Master class: nude in the Landscape in the Sacred Glade, Poggio Conte
Check out Patrick Nicholas' website – many images from the Le Belle  series (including the images in the slider) have been shot in the landscape around Orvieto.
A masterclass with a model lasts 6 nights:
Time spent on reconnaissance is never wasted, is an old military maxim, but works well for photography too. We will spend time together scouting locations and getting to know the area while at least a day will be dedicated to reviewing your work and  Photoshop/Lightroom manipulation. At the end of the week we shall finish up by doing a  fine-art print of your work. We have four shooting days with a model in the field. We use two models, but not necessarily at the same time. Shooting takes place entirely on location in the incomparable Italian landscape in secret places that few people aside from Patrick Nicholas know of. Patrick has been a professional photographer since he graduated in Photographic Arts in 1977 and has lived in Italy for over 35 years so he has a lot of knowledge to impart.
Master class: photo shooting locations.
Video of the October 2018 Masterclass in Umbria on Lake Trasimeno
Shooting takes place entirely on location in the incomparable Italian landscape in secret places that few people aside from Patrick Nicholas know of.
One of our favourite places is in the gorge at Vulci. There is a secret path down to the fast flowing stream so nobody ever disturbs us.
We have many photogenic locations ideal for shooting nudes on this photo course: secret, fern-lined glades; waterfalls; abandoned Templar churches; hot springs; deserted sandy coasts; rocky bays; many of which feature in the slider at the top. The weather is still warm well into October.
Personally, I like to tell a story with my pictures. Many paintings and operas have been based on the story of Orpheus and Eurydice; I believe the ravine at Vulci provides a suitably suggestive location for their tragic story.
The 60-second video below shows some of the locations.
Pricing
The cost for for one person for the 7 days, 6 nights is €2,995 including accommodation, the modelling fee for 2 days, two dinners, lunch and transport to the locations PLUS one fine art print up to 30x40cm of your best shot on Hahnemuhle paper. Modelling fee for an extra day's shooting is €200.
Two persons sharing a room €1,750 per person (€3,500). Please specify twin or double beds.
To get the most out of the workshop we do recommend coming a day early so we can start in good time. Extra nights: single in double room €50, double €90 we recommend that you book extra nights when you book your workshop, otherwise it may be that you have to spend a night in a different place.
Deposit €250 per person, Pay Pal, or bankers draft. You may pay the balance on arrival by credit card.
"As a photographer what this helps you to do is to stop and listen. Patrick's wonderfully laconic and easy going style are the perfect complement to the landscape. He encourages you to look. No , really look. To stop, to listen not just with your ears but to listen with your eyes…and if you think this is hyperbole think about how lovers pick up every change, every innuendo without a word being said. You begin to see the change in light; to feel the history. It is absorbing and you can't help but let it impact the pictures you take. – Read more here.  Marco Ryan