Eating Out
A Camera Etrusca photo trek is not just about 
f 
stops and depth of field: it's about wining and dining, living the Italian way of life: good food, excellent wines, and 
local specialities like olive oil
————————————————————————–
Breakfast
We don't have breakfast in the B&B, but outdoors across the Piazza del Popolo in the charming patisserie Café Scarponi – breakfast is on us.
Scarponi's speciality is chocolate in all its manifestations, but they also do sandwiches and savouries, as well as freshly pressed orange juice. This is where we outline the day's schedule and is a good time to discuss the basics of photography while the mind is fresh! Here Donatella brings out the cappuccino. On Thursdays and Saturdays we are surrounded by all the hubub of the market.
——————————————————-
Picnics and Eating out
You will be invited to have lunch on the roof terrace of Patrick and Lucia Nicholas's home in Orvieto (left).
We provide a generous picnic: buffalo mozzarella, pecorino cheese, Parma Ham, roast chicken, salad, fruit etc, plus mineral water and local wine.
Alternatively we could go to a 'rosticceria' or take away with tables outside. We often go to a shop like  Anna Polidori's, in Pitigliano – choose whatever takes your fancy.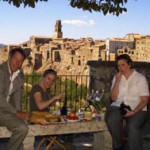 We provide 
two
(one for the short course) evening restaurant meals on the week's workshop – one usually in Orvieto and another out, either by Lake Bolsena or on the Mediterranean coast.
This (right) is the view of the piazza in Sovana  from one of our favourite spots for eating out in the evening. The restaurant is famous for its Tuscan specialities such as wild boar stew flavoured with juniper, picci all'agliata (fresh pasta with garlic and tomato sauce), acqua cotta (literally cooked water – a sort of substantial spinach soup), and more……
Italy is a great place for vegetarians and lovers of fresh fish.
Lake Bolsena has many restaurants around its shores, but our favourite is Mauro's (below left) 
Paradiso del Pescatore
.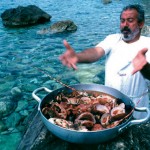 Right on the lake, Mauro goes out every day at dawn in his typical flat bottomed bright red fishing boat and later serves up his catch of corregone (the delectable lake fish the size of a herring), perch, eel, and pike.  His wife Maria also serves sea fish bought fresh every day from the local market: mussels, sea bass, white bait, clams…….They also do vegetarian and meat dishes.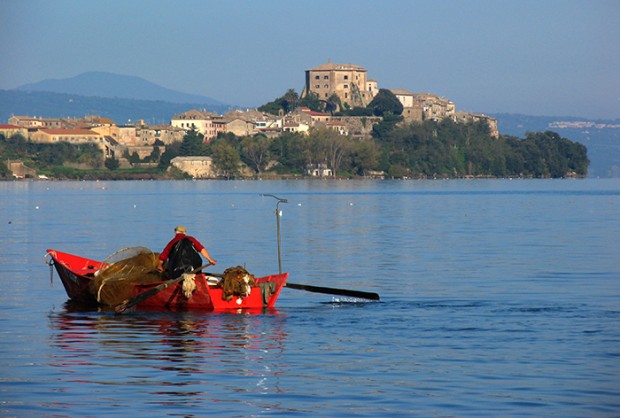 All this and the local white wine Est! Est!! Est!! – so called from a scout of the Holy Roman Emperor's who was detailed to go ahead and check out the victuals and wine for the imperial party. When he found wine fit for an emperor he wrote 'Est' (this is it) on the luckless peasant's cellar door (emperors  don't pay). He was so impressed with Bolsena's wine from Montefiascone he wrote Est! Est!! Est!!.
The scout returned to Bolsena after his imperial duties and died apparently of a surfeit of Est! Est!! Est!! in 1113 and is buried in Montefiascone. Every year there is a week long wine festival in his honour at Montefiascone in mid August.
Oysters and Spumante by the lake at Vulci. If you like oysters and shell fish tell us and we'll pick them up in Bolsena on the way through.