The olive  hasn't much to do with photography other than that olive groves end up being in a lot of landscapes. However, olive oil is one of the good things of Italy that most people appreciate while here – Orvieto olive oil is one of the world's best.
The olive is a truly remarkable fruit and you could happily survive on it and nothing else, except perhaps bread and a little salt to add to the pleasure of the eating.
The hilly countryside around Orvieto and Lake Bolsena is chequered with olive groves and vineyards. The well drained volcanic slopes are perfect for both, but of the two, olives are the easiest to cultivate as an olive grove requires little maintenance just the three 'Ps': pruning, picking and phertilising.
As the adage goes: how do you earn a million out of making wine? Spend 3 million – stick with an olive grove.
And then comes the marketing, and there lies the rub. The European Union is almost criminally lax when it comes to how olive oil can be described on the label of a bottle. Sadly one can almost ignore the (mis)nomen of Extra Virgin, much better to look for DOP on Italian oil which stands for Denominazione d'origine protetta which ensures the oil comes from a specific area and therefore not blended.
Olives grow on high rocky hills, on the lake shore and by the sea, so that every oil is different. Our area which covers Umbria, Tuscany and Latium has every type of olive. We visit the olive presses where they sell directly  not only oil but olive soap, olive based beauty products and their own wine. I can absolutely guarantee that their products are exactly what they say they are – besides you can taste them on the spot for free and without obligation.
The olive picking and milling season is from October to December in the Orvieto area.
All in all, a bit of oil and wine tasting is a charming adjunct to a photography workshop.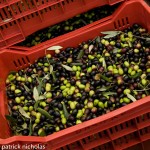 A few words about what to look for.
Extra Virgin olive oil is green or yellow depending largely on the ripeness of the fruit at harvesting. The younger the oil the better, so look for the date of pressing rather than bottling. Green is probably the one you are after as it is highest in polyphenols (anti-oxidents) and herby, slightly bitter and nutty flavours.
Green oil lasts longer too – up to a year if stored in a cool place in a dark bottle or tin. That said the yellow variety is good too and better in some ways – if you can trust where it comes from. Made from maturer darker olives, yellow oil is sweeter, just as full of flavour but lasts less long as it has less anti-oxidents than the green fruit. Most oil, even the best, tends towards the yellow because the mature olive gives more oil and therefore a better crop. But be warned, yellow oil in a shop could be blended or refined.
The oil can either be stone pressed, the traditional method, or centrifuged, the latter has a stronger flavour and also costs less. Those with refined tastes inevitably chose the former in blind tests. Cold pressed really means nothing as the heat method only makes low grade cooking oil which nobody wants, but scandalously often finishes in blended oils.
Olive oil is ruined by heat – so it is for pouring onto a dish not for cooking.
If I were ever marooned on a desert island I would hope to find olives.
Beware!
Like wine and malt whisky there is an enormous amount of arcane knowledge involved, but unlike the  jealously guarded malt whisky business there is also an enormous amount of deliberately created confusion and even gross fraud in the olive business. This does the small scale producers no good at all. They produce the best oil but cannot compete with the adulterated oils that find themselves onto the supermarket shelf.
In 2008 there was a huge scandal in the Tuscan wine business involving the world famous Brunello  which comes from Montalcino, just down the road from Orvieto. It transpired that some of the most expensive bottles had been adulterated with second rate Merlot after a particularly difficult summer.
The lesson for the consumer is the same as that for olive oil – distrust the big boys. In the Brunello scandal it was the big producers that blended with inferior wine because they had huge orders to complete and a vast industry to maintain – the temptation was there and they took it. The small producer just sells less in a lean year.
The wine scandal resulted in no convictions, did huge damage to the industry and resulted in the innocent being penalised by association.  The Bertolli oil case is similar. Bertolli sounds Italian but is in fact owned by Anglo Dutch food giant Unilever – no harm in that you might think except that their 'Italian' oil was revealed to contain oil blended from Turkey, Tunisia, Greece and and Spain – the label displaying 'imported from Italy' was justly deemed to be deliberately misleading. Unilever settled out of court.
The Sunday Times magazine recently ran an article about olive oil in which they published a table of  best to worst. Incredibly, one of  the best was Tesco Supermarket's own brand with 4 stars from Puglia at £7, €8 (500ml), whereas Harrods' Spanish oil El Verd del Poig at a whopping £70 (500ml) gained a measly one star – a loud hurrah for the common man!