Tuscany and Umbria Landscapes to Discover. Photography Travel Tours in Italy and Photo workshops.
Camera Etrusca, photography workshops and photography travel tours Italy, are based in Orvieto – in Umbria. This is an unrivalled part of Italy, known as Tuscia, it embraces three regions, so you will not only see the breathtaking landscape of  Southern Tuscany, but the hill towns of Umbria and the unjustly little known Latium (the region of Rome) with its lakes, ravines and forests.
Is there another part of the world which offers such variety to the photographer in such a small area?
The ever photogenic but oh so melancholy cypress tree is one of the leitmotifs of Southern Tuscany.
In San Quirico d'Orcia (above) there's a whole clump of them, planted after the First World War as a memorial – each tree standing for a fallen soldier.
Pitigliano
 in Tuscany (above) is one of our favourite places. A hilltop town built entirely of Tufa – the ochre coloured volcanic stone used all over Tuscia – it glows in the evening light. The photo left shows the Jewish cemetery in Pitigliano.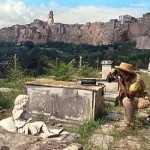 For more about Pitigliano: 
The Little Jerusalem
On the Tuscan borders with Latium lies an old papal customs post, 
Vulci
.
Once a powerful Etruscan city, now not a soul inhabits this sublime and beautiful place.
With so much to see and photograph, we usually spend a day at Vulci. Besides the ruins, there is a lot of water here: the river and lake, rapids  and waterfalls, making this is an excellent spot to practise slow speed photography using a tripod and ND filters (Neutral Density)  to blur the waters.
Not far from Orvieto in nearby Latium  is Civita di Bagnoregio (below) – known as the Dying City. Over the centuries the buildings have been falling into the ravine. Behind are the crete, the sandstone bluffs that are so typical of this part of the world up as far as Siena.
Our Land Rover Discovery will get you off the beaten track in air conditioned comfort to the right place, at the right time of day, for the right light.
Contact Patrick Nicholas, art photographer and course leader for info about custom photography travel tours in Italy or about photography workshops.