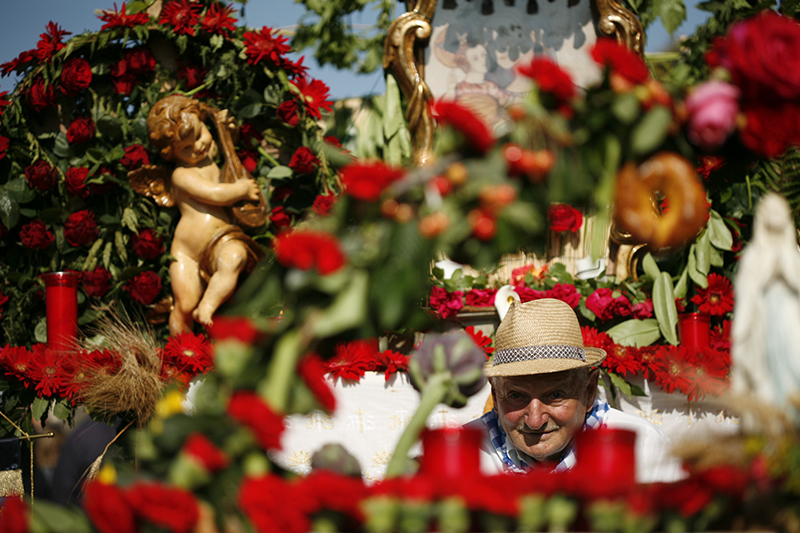 The Barrabata festival Marta, Lake Bolsena
The Barabbata Festival is held every year on 14 May (Monday this year) on the shores of Lake Bolsena in the fishing village of Marta near Viterbo. The festival is a catholicised re-enaction of pagan rites of spring and consists of parading a portrait of the Virgin through
the town and up to the church at the top of the hill. What sets it apart from thousands of other religious festivals is the enthusiasm with which the townsfolk construct their highly elaborate floats each year. These have got so big over the years that most of them can no longer manage the narrow lanes of the old town and have to be paraded along the main thoroughfare. Despite its devotion to the Madonna it's an all male affair, the woman are restricted to casting flowers from their balconies. The 'modern' festival dates back to 1563 though it probably has its origins in pagan Etruscan festivities.
The trades involved are the fishermen; the shepherds; the 'butteri', the cowboys of the Maremma on their fine horses; the herdsmen with their oxen and the villani, the villains or peasants, all dressed in their traditional costume. Everything is accompanied by loud cheering of "Evviva Maria, evviva il santisimo sacramento, Evviva la Madonna!" and there is also a noisy local band led, rather incongruously given the  antiquity of the festival, by majorettes twirling their batons.
The festival starts at 4.00 AM with a drummer beating round the town awakening all the participants to put the finishing touches to their floats.
They then start forming up along the lake shore from about 8 AM which is when we aim to be there, and the procession heads off through the town from 9 o'clock arriving at the church of the Madonna del Monte above the town at around noon where everyone then indulges in a well deserved wine swilling picnic surrounded by their on-looking animals. The Barabbata is a wonderful way to herald in the summer.
The Barabbata one day workshop is €295 or €350 for two persons. Start at 8.00 in Orvieto. All day out with picnic lunch. The festival finishes at lunchtime. We spend the afternoon photographing around Lake Bolsena. Finish at about 7.00 PM in Orvieto. Includes, lunch, tuition and travel by Land Rover.