Our Italian photography workshops are based in the historic centre of the ancient city of Orvieto (above) in Umbria, in Central Italy.
Orvieto is situated at the cusp of three regions: Umbria, Tuscany and the lesser known Latium. Orvieto, perched on a volcanic rock, is known the world over for its gothic cathedral and fine wine, but it is also deservedly famous for its wonderful restaurants.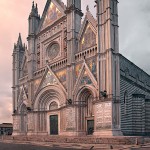 Orvieto is mainly pedestrianised and is a delight to amble round. It boasts fine shops, delightful street cafés, cocktail bars as well as street theatre, concerts and dance festivals in the summer months. Orvieto doesn't have a single traffic light.
Orvieto is on the main north-south rail route and autostrada, one hour north of Rome, 90 minutes south of Florence. The famous Tuscan wine district of Montalcino (home of Brunello) is half an hour away. In fact many of the world's finest wines come from a radius of 50km from Orvieto.