I have no idea why, but it was my dream as a child to find underground Roman ruins at the bottom of the garden.
This dream was to come true when my wife and I moved to Castel Gandolfo in 2002. We rented a flat in the grounds of a villa once owned by Visconti, bought when he was working on his masterpiece The Leopard  in 1962.
One day Lucia told me she had discovered a large cave in the cliff running along the edge of Lake Albano full of garden rubbish. When we investigated further we made out amongst the bushes another bigger opening enclosed by wall with a rusty gate. This was the Nymphaeum of Bergantino built on the orders of Domitian in the grounds of his vast palace now in the gardens of the pope's summer palace of Castel Gandolfo. The gate was unlocked and I was amazed by what I saw within. The arch is 17 metres across at the opening.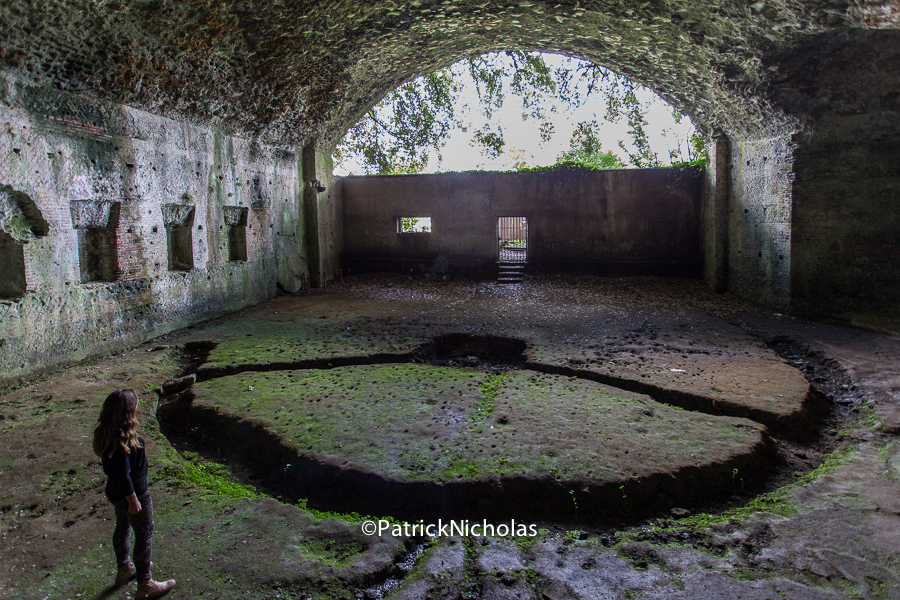 Domitian was fond of a barbaric form of gladiatorial entertainment known as the Naumachia, or mock naval battles involving real combatants and it may be that Domitian watched from the shelter of the nymphaeum.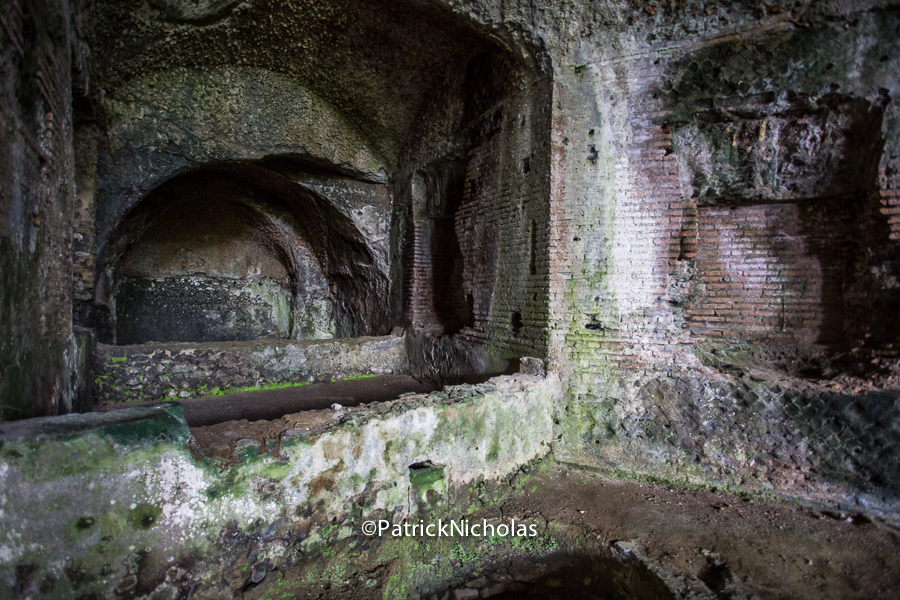 Piranesi drew the Nymphaeum in his inimitable manner in 1762 with nano figures to exaggerate the size of the arch.
Excavations in 1841 revealed mosaics of a gorgon and of Diana drawn in a chariot by four tritons as well as the remains of a marble sculpture of Ulysses slaying the Cyclops. None of which remain on site but are to be found in the private chambers of the pontifical palace. The marble walls and other sculptures disappeared in antiquity.
The Baths of Diana are not open to the public but you can visit them on a Camera Etrusca workshop in Rome or you can contact www.diakronica.it who organise guided visits.
I have recently shot one of my Belle pictures entitled Anima Mundi in this unique location which I will post soon in November 2013 on www.photonicholas.com